With the holidays upon us again, we thought that we'd help you find that perfect gift for the digital business or technology professional (or student) in your life. After all, isn't continuous exploration, innovation and learning part of what makes we Digerati so amazing? Without further ado, here's our Top 8 faves:
1. Pluralsight
Give that special someone a limitless learning experience with the largest online tech and creative training library. The unlimited online developer, IT and creative courses service will surely excite any digital professional in your life. Some popular courses include Building a Web App with ASP.NET 5, MVC 6, EF7 and AngularJS, Angular Fundamentals, C# Fundamentals with Visual Studio 2015, Advanced JavaScript and C# Best Practices: Improving on the Basics. Enjoy a 10-day free trial and then subscribe for as little as $29.99 / month.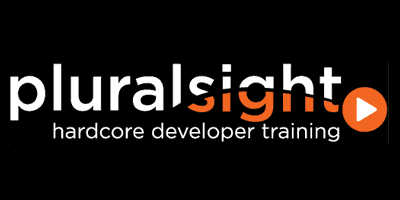 2. Market Motive
Given our relationship with many of the principals and instructors, we can attest to the value of Market Motive's deep-dive digital marketing coursework and certification programs. Courses include Web Analytics as presented by industry icon Avinash Kaushik, Search Engine Optimization presented by expert Todd Malicoat and Content Marketing presented by noted author and practitioner Greg Jarboe. Get the Foundation Pass for $49/month or the Expert Pass for $299/month. Use coupon code BOOST50 by January 4, 2016 to enjoy a 50% savings.

3. The Art of Language Invention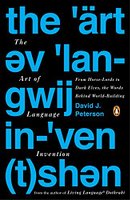 It's no surprise that most software developers have a natural interest and/or talent in linguistics. After all, adopting and expanding upon languages such as PHP, Java, JavaScript, Ruby and C# represents just another  day at the office.
From master language creator David J. Peterson comes a creative guide to language construction for sci-fi and fantasy fans, writers, game creators, programmers and language lovers. He provides the tools necessary for inventing and evolving new languages, using examples from a variety of languages including his own creations, punctuated with references to everything from Star Wars to Star Trek. Along the way, behind-the-scenes stories lift the curtain on how he built languages like Dothraki for HBO's Game of Thrones and Shiväisith for Marvel's Thor: The Dark World. This is a must-read for the fantasy-loving programmer.

4. Digital Marketing: Integrating Strategy and Tactics with Values – A Guidebook for Executives, Managers, & Students
The October 2015 DTR Book of the Month is an outstanding guidebook for entry-level and current refresher for experienced digital professionals. Bringing the reader through its five-step Path to Digital Integration (Mindset, Model, Strategy, Implementation, and Sustainability), Digital Marketing seeks to:
Outline the key drivers of change and leading digital marketing trends executives need to understand and incorporate to drive business opportunity.
Evaluate the digital channels and technologies management teams can leverage to execute a successful Integrated Digital Marketing strategy. This includes insight into the latest digital tactics (website, social, mobile, search, content, and email marketing; data analytics) and social tools (Facebook, Twitter, YouTube, LinkedIn, Instagram, Pinterest, and Google Plus).
Discover the impact of digital transformation on the organization, from the effect of digital tactics on the customer experience (CX) to the value of integrating internal digital strategies to facilitate collaboration and innovation.
Guide aspiring leaders on how to combine core values and business goals with progressive digital strategies, tactics, and tools to generate sustainable outcomes for all stakeholders.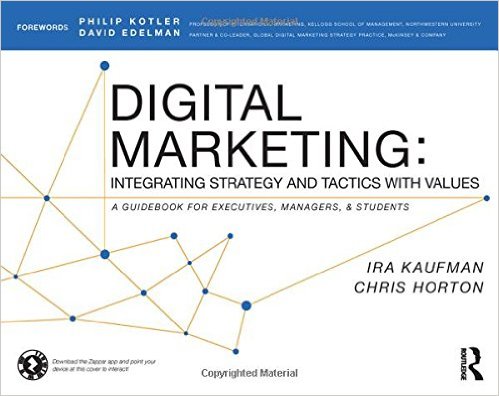 5. Raspberry Pi 2 Starter Kit with WiFi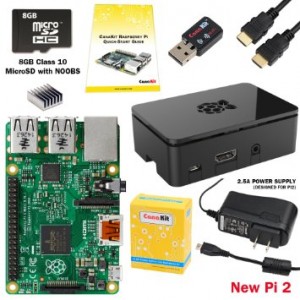 Raspberry Pi is the popular "tiny and affordable computer that you can use to learn programming through fun, practical projects". The fun, single-board computers kits are always being updated. For under $100 you can allow your favorite engineer or coder to make their own little IoT devices, as well as introduce their children to the world of engineering and electronics.
Includes Raspberry Pi 2 (RPi2) Model B Quad-Core 900 MHz 1 GB RAM
8 GB Micro SD Card (Class 10) – Raspberry Pi Recommended Micro SD Card pre-loaded with NOOBS
CanaKit WiFi Adapter 150 Mbps – Supports Access Point Mode (AP) to allow for WiFi Hotspot hosting
CanaKit 2.5A USB Power Supply with Micro USB Cable and Noise Filter – Specially designed for the Raspberry Pi 2 (UL Listed)
High Quality Raspberry Pi 2 Case, Premium Quality HDMI Cable, Heat Sink, GPIO Quick Reference Card, CanaKit Full Color Quick-Start Guide
We also recommend picking up a copy of Programming the Raspberry Pi: Getting Started with Python (2nd Edition, 2015).
6. Apple Watch – Sport Edition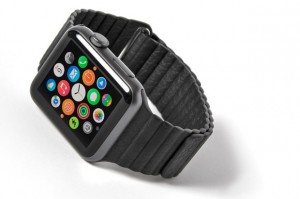 Apple Watch Sport enables you to enter the world of wearable tech and do so in style. Regardless of whether you're a tech geek or a sports addict, this dependable and versatile wearable tech helps you organize and track your daily activities efficiently, enhance your communications capabilities and achieve your full potential with native apps at your fingertips.
Receive and respond to notifications in an instant. Control your music using only your voice. Pay for groceries just like that. With Apple Watch, important information and essential features are always just a raise of the wrist away.
7. For Your Social Media Queen: The Handle Necklace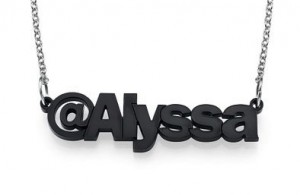 If you're in need of a silly, yet sweet gift for your favorite social media expert, look no further. The handle necklace will display your loved one's Twitter or Instagram handle in pendant form for all to see.
Perfect for that digital marketer in your life who would love the extra exposure! Check out the many custom options at Survival of the Hippest.

8. Movie-Inspired Accessories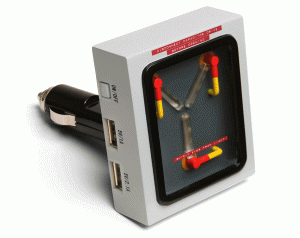 The geek community has had a fantastic cinematic year. First, after a brief 30 year wait, we finally reached Marty McFly's future. Although we still lack flying cars (and the Cubbies missed their shot at a World Series title), we do have the ability to charge our ubiquitous smartphones while driving to our destination. That's not too shabby. Do it in style with this faux-flux capacitor. Bonus: It can charge two devices simultaneously!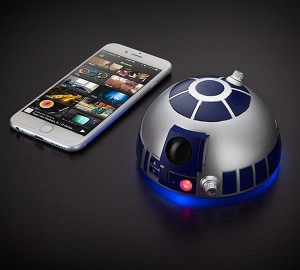 Of course, the real movie event of the year was Star Wars: The Force Awakens. As of December 20th, the film has already exceeded a worldwide total of $529 million at the box office. Needless to say, it's a safe bet your digital guy or gal has both seen it and been one of the many to sing it's praises.
Get fans this "droid dome" speakerphone for both playing music and taking calls  so they can be the happiest in the galaxy.
 Happy Holidays from Digital Talent Recruiters!